Affordable Condos in Downtown Sarasota!
I live and work in Downtown Sarasota and it's one of my favorite neighborhoods in the entire region. This video focuses on the condos that you can get right now for around a million dollars. With our market's high demand, this is a great price point and these buildings are all uniquely appealing AND within the heart of Downtown Sarasota's vibrant lifestyle. 
Here are a few of my favorites:
Zahrada has a cool architectural style and feels like single-family living although these residences are actually condos. Each of these Rosemary District homes, completed in 2019, has a private pool and the sense of a personal oasis.
711 Palm is a boutique scale building with 16 residences on the coveted Palm Avenue, one of Sarasota's most beautiful streets. The 3-bedroom layouts here offer generous living space.
1500 State Street is one of the most affordable options Downtown. While the layouts are a bit smaller, this condo building is perfectly located to enjoy walking anywhere and enjoying the city life.
332 Cocoanut was completed in early 2020 with 36 residences as well as some commercial space that adds vibrancy. There's a pool for residents to enjoy, and the modern industrial style is something cool and different than what we usually see.
Orange Club is one of my favorites because of my early representation of this project with Van Dyke, the developer. The exceptional finishes in these homes create a luxury environment at a great price point and there are both condos and townhomes to purchase.
Valencia townhomes in the Rosemary District are spacious and maintenance-free options within two blocks of the Sarasota Bay waterfront. These homes are in a great location for enjoying the bustling Rosemary District and the lifestyle you can learn more about in one of my recent videos by clicking here or the thumbnail below: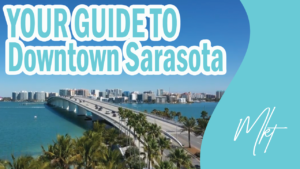 There are even more details in the video and, of course, I'm always here to answer your questions about what you can find on the market right now.